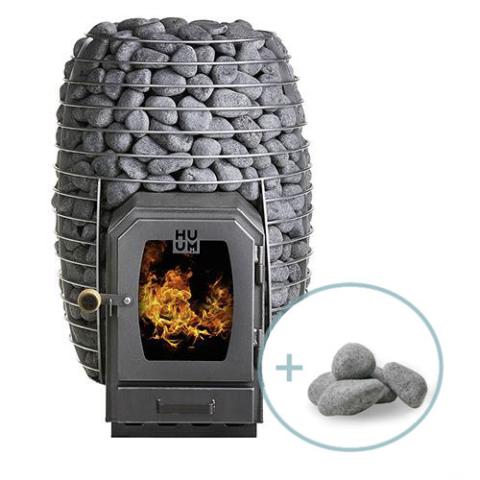 This HUUM HIVE Wood package features all the necessities you need to begin your sauna journey. Complete with the HIVE wood 17 wood burning sauna heater and sauna stones, you have everything you need. This package is suited for sauna rooms from 283 to 565 cubic feet.

The HIVE Wood 17 provides bathers with an authentic wood-burning sauna experience by generating a soft, high heat. The unit includes a sturdy 1/5" thick stainless-steel flame tamer for long-lasting strength and durability.

HUUM HIVE Wood sauna heaters are precision-crafted in Estonia to provide years of reliable, efficient operation. The HIVE Wood 17 is constructed of high-grade stainless-steel and also features a stainless-steel furnace door.

The HIVE Wood 17 can hold up to 287 pounds of sauna stones, ensuring a much more consistent heat and superior sauna experience. Its large number of exposed stones provides a long-lasting heat and better steam capability.

The HIVE Wood 17 carries HUUM's limited 5-year warranty and is fully serviceable.
HIVE Wood 17kW Sauna Heater
Unique design for greater efficiency
Clean burning
For sauna rooms from 283 to 565 cu. ft.
Stainless steel construction
Stainless steel furnace door
Treated only with natural oils
Designed, engineered, and crafted in Estonia
Limited 5-year warranty
HUUM Stones 24
Olivine diabase sauna stones
Rounded shape to complement heater design
Durable with high-heat capacity
Stones range from 2" to 4" (5-10 cm)
HIVE Wood 17kW Sauna Heater
Sauna stove, 21.9"W x 23.2"D x 23.2"H
Installation and operation manual
Limited 5-year warranty (excluding elements)
HUUM Stones 24
297 lbs of 2"-4" (5-10 cm) round Olivine sauna stones
| Model | HIVE Wood 17 |
| --- | --- |
| Kilowatt Rating | 17 kW |
| Minimum Cubic Feet | 283 CF |
| Maximum Cubic Feet | 565 CF |
| Width | 21.9" (555mm) |
| Depth | 23.2" (590mm) |
| Height | 29.6" (750mm) |
| Heater Weight | 143 lbs (65kg) |
| Shipping Weight with Sauna Stones | 450 lbs |
| Model | Stones 24 |
| --- | --- |
| Stones Included | 297 lbs |
| Dimensions | 2"-4" (5-10 cm round) |